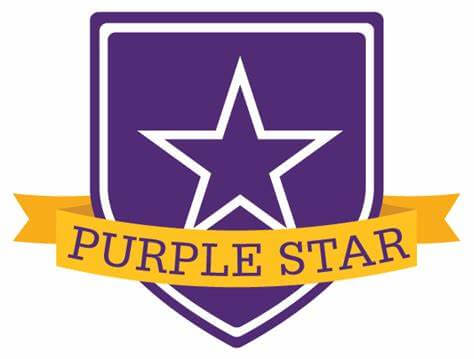 G.W. Long Elementary School is recognized as a Purple Star School. The Alabama Purple Star Schools Program and committee, established by Legislature with the passage of Act 2021-7, recognizes the efforts of the K-12 schools in the state that are committed and supportive of military students, and their families, as they transition to their new homes and schools. The Purple Star School program was designed to help mitigate the challenges of high mobility by setting standards for and publicly designated military-friendly schools. The Purple Star Award recognizes schools that show a major commitment to students and families connected to our nation's military.
Military Family Resources
LES Military Student/Family Liaison
Ms. Celeste Johnston, LES Principal
Phone #: 334-774-0021
email: cjohnston@dalecountyboe.org
Student-Led Transition Services: Peer Helpers
Through our system-wide Peer Helpers Program, G.W. Long Elementary School offers 100% acceptance and strives to bring military-connected and civilian students together. Our Peer Helper student organization welcomes incoming students and helps departing students prepare for their next school, these students are also available for a chat anytime and they know the right adults to connect you with if you're having a problem at school or at home.
More information about our Peer Helper program can be requested by emailing Rhonda Watson (rwatson@dalecountyboe.org), Zahnae German (zgerman@dalecountyboe.org), Sally Brady (sbrady@dalecountyboe.org), Whitney Hines (whines@dalecountyboe.org), Candice Lawrence (clawrence@dalecountyboe.org), or our Military Student and Family Liaison, Celeste Johnston (cjohnston@dalecountyboe.org).
For a list of Peer Helpers in your child's classroom, please contact your child's teacher.
Upcoming Military Family Events:
Military Appreciation Night - free admission with a military ID to a Rebels football game - Each Fall
Veteran's Day Luncheon - students of military-connected families can invite their active-duty or veteran service member to enjoy lunch with them - Each November
A Million Thanks! - students write letters of encouragement to be sent out via AMillionThanks.org - Each February
Helpful Links for Military Families